Alex Christofi joins us live on zoom - Tuesday 13 April, 7pm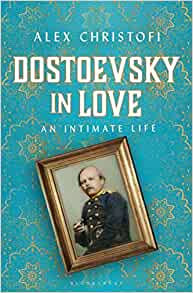 A novelistic life that immerses the reader in a grand vista of Dostoevsky's Russia: from the Siberian prison camp to the gambling halls of Europe; from the dank prison cells of the Tsar's fortress to the refined salons of St Petersburg. Alex Christofi relates the stories of the three women whose lives were so deeply intertwined with Dostoevsky's: the consumptive widow Maria; the impetuous Polina who had visions of assassinating the Tsar; and the faithful stenographer Anna, who did so much to secure his literary legacy.      
The memoir Dostoevsky might himself have written had life – and literary stardom – not intervened. Alex Christofi gives us a new portrait of the artist as never before seen: a shy but devoted lover, a friend of the people capable of great empathy, a loyal brother and friend, and a writer able to penetrate to the very depths of the human soul.
To register for an invitation, email: CarnegieLibrary@Lambeth.gov.uk