Detailed condition reports from architects and surveyors have confirmed that the library building:
Is in good condition, and
Can be expected to remain so for the next decade or two provided a proper programme of routine maintenance is carried out.
Specifically, the architects and surveyors advised that the roof gutters must be cleared of leaves twice a year to prevent the gutters overflowing and discharging rainwater into the front rooms of the building.
Clearing the gutters is a simple matter of accessing the roof from inside the building through a trap door and then walking along behind the parapet walls collecting the leaves.
For years Lambeth's property management failed to clear the gutters until water came in and eventually spent a six figure sum on repairs to plaster mouldings damaged by the water.  After the repairs Lambeth still omitted to clear the gutters.
Shortly before the Council's cultural services were due to be inspected by the Audit Commission the Friends complained to the Commission about this and other matters.  A one-year contract to clear the gutters quarterly was put in place before the Commission's inspection team arrived.  At the end of the year it lapsed and water came in again.  Lambeth insisted that the contract could not be renewed because "no paper trail" existed for setting it up in the first place.
In response to further complaints Lambeth responded that library staff must wait for the gutters to overflow before the gutters could be cleared because Lambeth did not have a budget for "preventive maintenance" of library buildings but only a budget for "reactive maintenance."
Eventually the library service gave up hope of getting any sense out of the property managers and themselves arranged for the gutters to be cleared twice a year.  There was then no further ingress of water for a few years until Lambeth closed the Library in March 2016 and handed control of the building to its property managers.  The gutters were due to be cleared the next month but this was not done and more water came in. The necessary routine clearing was still not arranged.  The front rooms are currently too damp to occupy.  The plaster work is in a disgusting state and will no doubt require more very expensive repairs.  The following photograph was taken in April last year.  The damage will no doubt be far worse by now.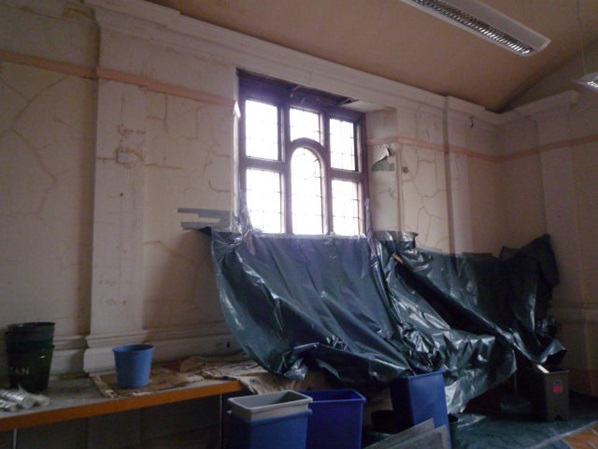 Lambeth have saved hundreds of pounds by omitting to clear the gutters and then spent tens of thousands of pounds repairing the damage which they knew would inevitably result.  In due course they will no doubt argue that the building has to be sold because its maintenance costs are so high.  To add to the cost Lambeth have had their contractors put up scaffolding twice for no reason, damage and then replace roof slates and done completely unnecessary work to the roof.  Details are here.