Since 1999 the Friends have held an annual
Winter Fair. Over the years it became one of
the most popular events in the Herne Hill
calendar. With the library closed we cannot
stage a full-scale fair; but we will hold a
modified 'Spirit of Libraries' event to afford
some seasonal cheer and remind everyone we
are still here,
and organise opposition to the new planning application.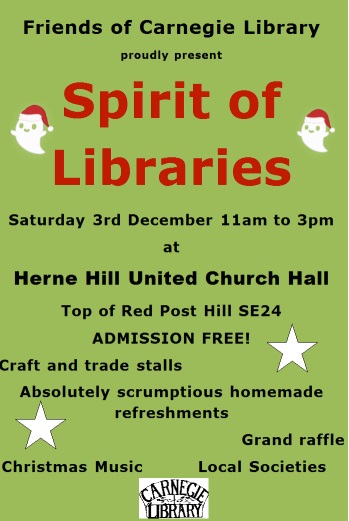 Come along on Saturday 3 December from
11.00–3.00 at Herne Hill United Church Hall
and Garden Room, Red Post Hill. There will of
course be our famous tea & cake stall,
community stalls, craft stalls, a raffle and other
delights.
Reunite with old friends and meet new ones for
a true community celebration. Make a
resolution to return to the library next year,
reviving the Winter Fair and all activities.
4pm: A planning application has now been filed to make drastic,
irreversible changes to the Carnegie building. Public meeting to
discuss action.