OVERHE(a)R(e) connects artists in two global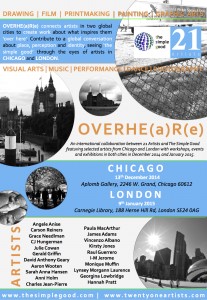 cities to create work about what inspires them
'over here'. Contribute to a global conversation
about place, perception and identity, seeing 'the
simple good' through the eyes of artists in
CHICAGO and LONDON.
You are cordially invited to this multi-artform event on Friday 9th January between 6-9pm. Food, wine and cocktails.
The artists whose works will feature comprise:
Angele Anise  Carson Reiners  Grace Needlman
CJ Hungerman  Julie Cowan  Paul Branton
David  Anthony Geary  Sarah Anna Hansen
Anni Holm  Charles Jean-Pierre
Meg Peterson  Paula MacArthur  James Adams
Vincenzo Albano  Kirsty Jones  Raul Guerrero
I-M Jerome  Monique Muffin  Lynsey Morgann Laurence
Georgina Lowbridge  Hannah Pratt
More information at:
w w w . t h e s i m p l e g o o d . c o m