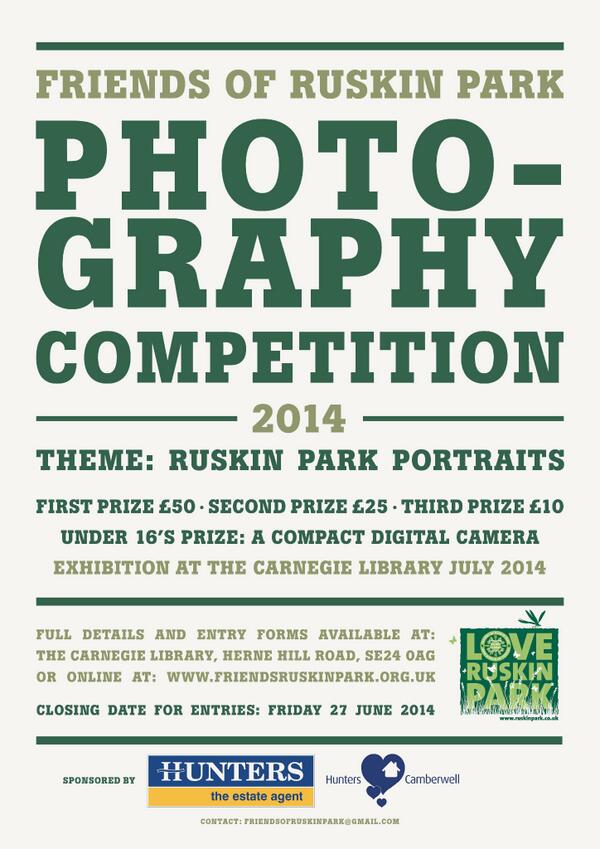 The Friends of Ruskin Park are delighted to announce the launch of their second annual photography competition, sponsored by Hunters, Camberwell's expert local estate agents. The theme for 2014 is 'Ruskin Park Portraits'.
Competition organiser vice chair David Whyte came up with the idea as a way to get the local community more involved in enjoying and caring for Herne Hill's much-loved green space. The park itself was named after the prominent local art critic, social thinker and philanthropist, John Ruskin (1819-1900).The Friends of Ruskin Park are working closely with Lambeth Council in developing their co-operative strategy to ensure our parks and green spaces are preserved and developed for generations to come. The Friends have already secured £10,000 funding for a feasibility study to refurbish the disused stable block. "We hope that this photography competition will inspire people and raise awareness of all the wonderful facilities the park has to offer," David adds.
The subject of last year's photography competition was the little known gem in the park's arboretum, the Handkerchief Tree (Davidia involucrata), native to China, with its very unusual flowers. Along with the popular paddling pool and playground café, summer concerts on the central bandstand, and the former bowling green now planted out with wildflowers, there are year-round sports facilities and a flourishing community garden. People see and use the park in many different ways.
Brett MacDougall, sales director at Hunters estate agents on Denmark Hill, was delighted to be asked to sponsor the competition. "Here at Hunters, the fastest growing estate agent in Camberwell, we pride ourselves on our expert local knowledge. It's important for us to give back to our community. Ruskin Park is an award-winning local resource that needs to be both preserved and celebrated."
The competition is open to all. There are cash prizes for the best three entries and also a compact digital camera prize for Under 16s. In 2013, the competition organisers were pleasantly surprised at the number of entries from children and would like to encourage local schools to get involved. An independent panel will judge the winners and select from this year's entries for an exhibition in the Carnegie Library in July 2014.
The deadline for competition entries is Friday, 27 June 2014. Full details and entry forms are available online here:
...and also from the Carnegie Library, Herne Hill Road, SE24 0AG.
Images of entries from the 2013 competition, the Handkerchief Tree, and the park are available here.