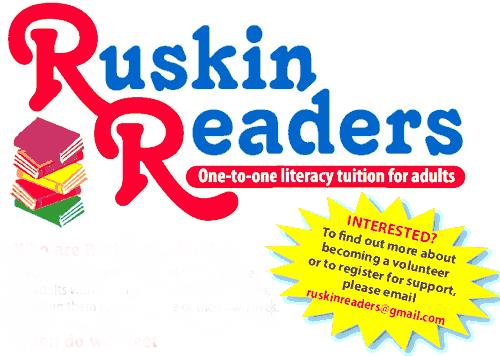 Ruskin Readers are a voluntary organisation aiming to provide for adults with reading or writing difficulties, enabling them to take charge of their own lives.
Volunteers receive support from the club supervisor and professional speakers in the field of adult literacy
Volunteers work with an individual student, helping to develop
heir learning skills and confidence for one two-hour session each week
Volunteers hold meetings about twice a year to discuss their students' progress and to exchange ideas and talk about future needs
Students are welcomed into a friendly cluband are assigned thier own tutor to work with from week to week
Students may set their own goals and targets for the basic skills they wish to develop and at their own pace
Counselling, advice and support are available for both learning skills and for the students' lives outside the club
Regular cultural outings are organised for all members. Local theatre and cinema are used as well as visits to museums and galleries
Well-attended sessions are run by Caroline Knapp.